by Dot Walsh, with photos from Andy Celley
Rebecca Solnit tells us:
"This is an extraordinary time full of vital, transformative movements that could not be foreseen. It's also a nightmarish time. Full engagement requires the ability to perceive both." 
Friday, January 20th, was Inauguration Day. I had decided to plan an event from 12-2 pm no matter who showed up. I believed  it was important not to be in my home watching the TV or listening to the radio. And so we came together, a small group of close friends, on a very cold day.  We made new friends, listened to each other, informed passersby about the work of Engaging Peace, and left more hopeful.
The following message was sent to me after the event:
"Thank you for holding the space and inviting strangers to join you. Doing so is a beautiful gift of compassion. While I had never imagined attending something like this before I was glad I did. When I arrived home I realized that I was feeling more optimistic and hopeful.
Thank you for sharing the milk of human kindness."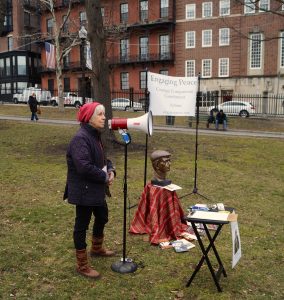 Dot Walsh is a devoted peace activist who worked at the Peace Abbey until it closed.  She has a long history of involvement with social justice issues including prison, homelessness, and human rights.
Tune in tomorrow for photos and prose concerning the Boston's Women's March, January 21, 2017.