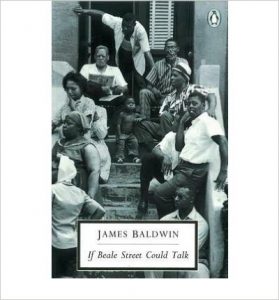 1974. Does it seem like a long time ago? A whole different era—before omnipresent computers spying on everyone, before killer drones, before ISIS? Well, maybe.
James Baldwin published If Beale Street Could Talk in 1974. If you read the book, you will have to admit that the experiences of young black men in 1974 sound very much like the travails of people of color in this country today, especially if they grow up in poverty but even if they just happen to be of the wrong color in the wrong place at the wrong time.
Although If Beale Street Could Talk is an engaging and haunting love story, it is an even more haunting story of racism, particularly institutional racism, police racism, racism that is, directly and indirectly, murderous—to bodies, to minds, to communities, to our nation.
If you want to understand better the necessity and significance of movements like Black Lives Matter, read If Beale Street Could Talk. And if Trayvon and Tamir and Eric and thousands of other young people of color whose lives were brutally ended could talk, they might want to say something like:
"Of course all lives matter. But you white people just assume your life matters, and you assume you have rights, and you demand respect for your life and your rights. If you think you're not getting what you deserve,  you get rip-roaring mad, and you feel downright entitled to look for scapegoats and lock them up or shoot them. And sometimes you even vote for crazy people who promise to get rid of all the bad guys troubling your lives. But if you're black, you know your life doesn't matter one whit to millions of white people, you know you're dispensable, and you know your life is at risk even if you're just driving your car down the road with a broken tail light."
For anyone who wants to understand why some people feel the need to point out that their lives matter, that black lives matter, too,  I urge you to read James Baldwin. He's as relevant today as he was 42 years ago, and that is chillingly, distressingly relevant.