[Editor's Note:  In today's post, we introduce a new feature to our engagingpeace.com blog. Periodically we intend to offer a brief review of a contemporary book that sheds light on issues such as war, torture, terrorism and their aftermaths, as well as on peace, reconciliation, and apology and forgiveness. We also invite our readers to submit commentaries on books they have found helpful.]
Reviewed by Charikleia Tsatsaroni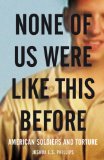 In this thought-provoking and revealing book, Joshua Phillips asks why U.S. forces and officials believed that torture was effective, permissible, and necessary, and what were the factors that led them to engage in such practices.
He begins his quest with the death of Sergeant Adam Gray, who made it home from Iraq and died in his barracks. Phillips then guides us through his interviews with ordinary American soldiers, their families and friends, victims of torture, military, governmental, and intelligence officials, human rights lawyers, and activists, to name a few.
These interviews provide many examples of Albert Bandura's socio-cognitive mechanisms of moral disengagement (e.g., advantageous comparison, euphemistic labeling) as the expanding set of individuals connected with the use of torture try to make sense of what happened.
Phillips' narratives lead inevitably to the idea that Americans who engaged in torture were not just a "few bad apples" (p. ix) and that the factors leading to torture did not lie only within individuals but also and most importantly within the societal context and its interwoven systems.
His book also strongly reinforces the importance of greater attention to the trauma inflicted on soldiers by their involvement in torture and abuse; it is apparent that most of his interviewees deal daily with personal demons.
Overall, I would recommend this very readable book for its eye-opening narrative and its ability to keep you involved until its painful ending, which highlights the fact that wars have victims on both sides.
Even physically untouched "victors" can bear wounds forever because of what they did in the context of war.
Charikleia Tsatsaroni, MSc., EdM., from Greece, is the former head of the Department of Human Resource Training and Development of the Greek Organization Against Drugs (OKANA), and is a member of GIPGAP.