by Sarah Mensch
I always knew I'd be a protestor. I grew up in a household where Stephen Colbert and Keith Olbermann were always on TV, where Thanksgiving dinners were spent discussing politics. One of my first clear memories is of my dad swearing at the TV in 2000 as Bush collected more and more electoral votes. Political heat was no stranger in our home.
I've always imagined protesting as "sticking up for the little guy," so to speak; I thought I'd be fighting for LGBT+ rights, or immigrants and refugees' rights. But when Trump was elected, things got personal.
Within minutes, Trump grabbed at the throats of "sanctuary cities," of Planned Parenthood, and the Affordable Care Act. My mind turned to my mother and to my sister, who suffers from a chronic illness called POTS. It turned to my friends and me, who rely on the ACA's policy allowing us to stay on our families' health insurance plans until we turn 26. It turned to my grandfather, a refugee from Poland who survived the Holocaust because of our incredible melting pot. And I knew I had to fight.
Going to the Boston Women's March was incredible. Even the walk to the Boston Common was exciting. People were blocking the streets, pushing old friends in wheelchairs or carrying little ones atop their shoulders. Their signs were funny, sentimental, or calls to action. And I had never seen so many people before; later, I learned that I was one among 175,000 marchers in Boston alone.
I think the speech Senator Warren gave at the March best summarizes the event: "…we believe that sexism, racism, homophobia, and bigotry have no place in this country," she said. "Black lives matter; diversity makes our country stronger. We believe that equal means equal and that's true in the workplace, it's true in marriage, it's true every place."
While I expected this to be an angry march, something a little closer to a riot or a protest, all I saw was people loving each other.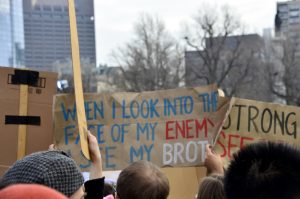 Strangers were high fiving other strangers whose posters held messages that resonated with them. People moved out of the way easily, quickly, and without complaint to let handicapped marchers through. It became very clear to me that this was a celebration. We were here because we were proud of ourselves and of each other in our diversity.
Sarah Mensch, Research Assistant, Graphic Designer, is a psychology major at Boston University. She is thrilled to be working on a Directed Study focusing on the effect of the media on gun violence under the supervision of Dr. Malley Morrison. When Sarah graduates, she aims to go on to graduate school to earn an MSW and become a therapist. In her spare time, Sarah enjoys pursuing her minor in Deaf Studies, photography, and exploring Boston
Another one of Sarah's favorite photos from the March: