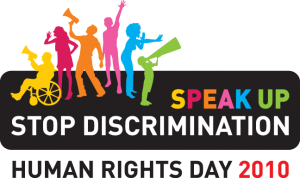 The United Nations has specified  December 10 as international Human Rights Day in 2010. According to the Office of the High Commissioner for Human Rights, this year's theme focuses on human rights defenders, who act "against discrimination, often at great personal risk to both themselves and their families" Such individuals are exactly the types of people whom we identify as morally engaged.
The High Commissioner also points out that, "Some human rights defenders are famous, but most are not. They are active in every part of the world, working alone and in groups, in local communities, in national politics and internationally."
We invite you to contribute to the worldwide campaign for human rights by performing some act today that promotes those rights. One thing that you can do is join Amnesty International or at least participate in one of their letter writing campaigns on behalf of victims of human rights violations.
Human Rights Day comes just five days after International Volunteer Day (Dec. 5). It's not too late to volunteer to help some human rights endeavor on a regular basis. As UN Secretary-General Ban Ki-moon said, "Together, let us use the tenth anniversary of the International Year of Volunteers, which we mark in 2011 (IYV+10), to find new areas where volunteering can make a difference. Let us honour volunteering as an expression of our common humanity and a way to promote mutual respect, solidarity and reciprocity."
Kathie Malley-Morrison, Professor of Psychology