Review of Simon Baron-Cohen's The science of evil: On empathy and the origins of cruelty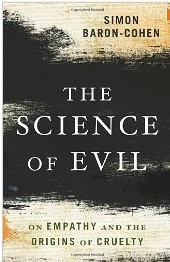 In his Acknowledgments, Baron-Cohen begins by saying, "This book isn't for people with a sensitive disposition" (p. xi). It is a fair warning.
His first chapter is particularly distressing, with descriptions of numerous barbarities. If you need to be persuaded that human beings have provided many examples of man's inhumanity to man besides those of the Nazi Holocaust, then read it all; otherwise you may prefer to skip some details.
Probably all of us can give examples of human behavior that we view as "evil," but Baron-Simon suggests that by calling a behavior "evil" we tend to shunt it off into the moral domain rather than recognizing that evil behavior, like other behavior, can be studied scientifically and perhaps thereby become modifiable or preventable.
The key to understanding why people behave cruelly, according to Baron-Cohen, is empathy—and particularly deficits in empathy. To explain how "empathizing mechanisms" work,  Baron-Cohen takes readers on a tour of the "empathy circuit" in the brain.
Although he uses scientific language to identify parts of the brain that provide a neurological basis for empathy deficits, his book is not overly technical; it is accessible to the educated lay reader.
Baron-Cohen describes three types of personality disorder associated with deficits in empathy—psychopathic personality disorder, borderline personality disorder, and narcissistic personality disorder. The development of each type of personality disorder is associated with some form of abuse, neglect, or rejection in childhood.
Although Baron-Cohen emphasizes the strong link between childhood maltreatment and empathy deficits, he also suggests that empathy can and should be developed, and concludes with the story of two men, a Palestinian and an Israeli, both of whom lost their sons in the Intifada. Together the two of them tour synagogues and mosques promoting the importance of empathy and raising funds for their charity, The Parents Circle – Families Forum for Israelis and Palestinians.
This is a very readable book despite the frequent references to brain structures and circuitry. The message is crucial: empathy is probably essential to human survival.
Kathie Malley-Morrison, Professor of Psychology