It is unlikely that the human capacity for inhumanity can ever be adequately explained by any one theory. We believe that all behavior is multi-determined—that is, many forces at a variety of levels contribute to any one type of behavior, including aggression.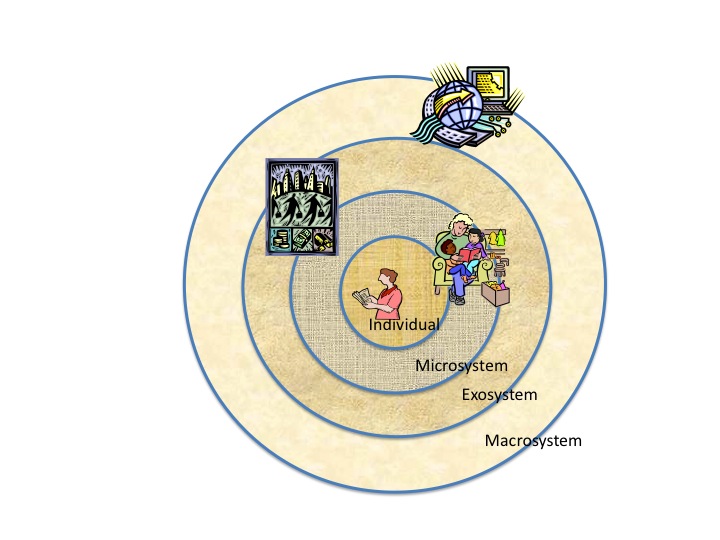 We subscribe to what has been called an ecological approach to understanding complex behaviors. This approach involves constructs reflecting different contexts that influence individuals and are in turn influenced by those individuals. That set of constructs includes: the macrosystem, the exosystem, the microsystem, and the individual.
For example, an individual's concerns about "national security" are influenced by:
The values and mass media positions of the society at large (the macrosystem)
The views expressed in places of worship, neighborhood, and more local media (the exosystem)
Lessons promulgated within the home and family (the microsystem)
Moreover, individuals bring to all of their interactions their own genetic heritage and the results of their personal experiences, beginning in the womb. Sometimes that heritage and those experiences can lead individuals to behave in ways that change the microsystem, or the exosystem, or the macrosystem. Think of Gandhi, Nelson Mandela, Martin Luther King.
Consider also your own views on national security, on torture, on terrorism. How many influences on those views, at what levels of experience, can you identify?
In our next post, we start considering psychological theories that focus on thoughts and emotions that individuals bring to their interactions, as well as the thoughts and emotions they carry away from those interactions.
Individuals' tendencies to incorporate ideas from the different environments in which they grow and to which they adapt can lead to a great deal of ingroup and outgroup thinking that can provide a basis for enduring conflict.
Kathie Malley-Morrison, Professor of Psychology