By guest author Dorothy Walsh
Coming from a middle class family, I had to learn about what Gandhi called the worst kind of violence: poverty.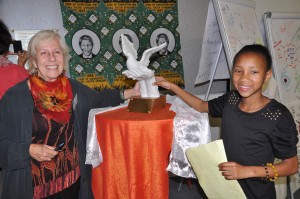 Men and women on the streets struggling with addictions or homelessness needed someone to hear their stories and not judge them. I found I could offer kindness and compassion without becoming a victim myself.
Working at STEP, a treatment on demand facility with staff members and clients coming out of prison, reinforced my connection to my brothers and sisters.
Over the years, I have taught a mediation course at a local college and organized and developed a volunteer program at the homeless shelter, Rosie's Place. I also supervised students from nine schools in the Boston area who set forth emboldened in the quest to show that there are alternatives to violence even in an unjust society.
While at the Peace Abbey, I met and greeted peacemakers from all over the world. I had the honor of presenting Rosa Parks with the Peace Abbey Courage of Conscience Award, giving a big hug to Joan Baez, sitting with Maya Angelou, and traveling to South Africa with the Mandela Award. More recently, I participated in giving a Courage of Conscience Award to the Benebikira Sisters of Rwanda (http://engagingpeace.com/?p=1155).
I have found that in every situation someone shows up who can help us find the courage to begin again, to rise above the dark clouds and find the rainbow. This was true even in the closing of the Peace Abbey, a sanctuary of peace not only for me but for countless others.
Before long, I was introduced by friends to storytelling and writing and began telling prison and other stories from my life's  journey. In a world with much violence, we do well to remember the words of Gene Knudsen Hoffman (1919-2010), "An enemy is one whose story we have not heard."
This story-telling venture led to the "Oneness and Wellness" program I am currently hosting for Dedham Cable TV, sharing the stories of guests who seek to make this world a better place for all.
Dot Walsh, lifelong peace activist