By guest author, Dorothy Walsh, a lifelong peace activist
My journey in understanding the importance of peace and nonviolence for the world and for myself began in the aftermath of World War II as I learned about the horrors of the war and the Holocaust.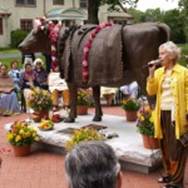 This experience led to my personal commitment to never be supportive of violent resolution of conflicts.
Traveling and hitchhiking as a student in Europe after the war, I found myself asking every German I met if they had known about the concentration camps and what happened to the Jewish people. No one would answer me except an old woman in a hostel in West Berlin. She said, "We all knew."
During the Vietnam War, I became active with local people by attending rallies and by housing some of the activists who were away from their homes. As a young mother, I had limited opportunity to demonstrate against the war, but for the first time I called myself a pacifist.
My commitment to the practice of nonviolence has been a lifelong challenge as I learned that it took more than participating in demonstrations to be a peacemaker.
My education, focusing on the roots and causes of violence, came from the "criminals" in the prison who were my teachers during the 20 years I spent as a member of a chaplaincy team and later as a program director for men incarcerated for domestic abuse.
I was able to learn and practice trust. Several times I saw the fruit of this value in helping to resolve a hostage situation and to settle serious conflicts.
During this time I created a home for people coming out of prison. We were only three people with families and children, but we managed to run the Home of Reconciliation for several years and provide support for men who had nothing and nowhere else to go.
Dot Walsh