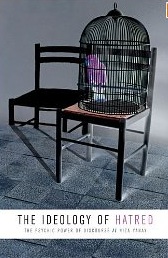 In her book The Ideology of Hatred: The Psychic Power of Discourse, Niza Yanay argues that conflicts formerly identified as struggles for national autonomy or self-determination are now being viewed as products of hatred. We heard a lot of that after 9/11: "Why do they hate us?"
Perhaps the answers would have seemed too embarrassing if the media had asked questions such as, "Why do they want control of their own oil, of their own territory?"
Yanay argues that hatred is not the opposite of love but rather is intricately intertwined with it. Think about it. On a personal level, how often do husbands, wives, lovers, and children say "I hate you" to the people they love and need most?
Yanay categorizes hate into two types:
Hatred by the oppressed toward an oppressor
Hatred by the oppressor toward the oppressed.
The first, she points out, can be easily understood. The second type, however, requires the development of an ideology to support it—an  ideology that portrays you and your particular group as moral, good, and just, and any "Other" as hateful and dangerous.
While political-military leaders and the media may reinforce such an ideology–for example, referring to an "Axis of Evil" or "Muslim terrorism"—people have an unconscious desire to connect with the "enemy." For example, sometimes Israelis refer to Palestinians and Arabs refer to Jews as "our cousins."
Yanay offers a way out of the sort of hatred promoted in the Middle East and elsewhere: form friendships, even in the face of conflicts, just as we do in our personal lives. Most of us have good friends who occasionally frustrate us, anger us, refuse to see that we are right and they are wrong. In general, though, we value those personal friendships enough to work things through.
Nations can do that too.
Kathleen Malley-Morrison and Majed Ashy
An earlier version of this two-part review was recently published in the American
Psychological Association journal, PsycCRITIQUES, August 2013.